Company Profile
Company Info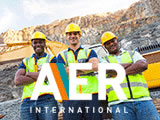 AER International
United Kingdom
Company Description:
AER International is a well established, genuinely global supplier of recruitment solutions to the mining industry. Specialising in the business critical ex-pat market we have a long track record of success in delivering highly skilled personnel in locations across Africa, Central Asia, Russia, Far East, Turkey and Latin America.
Operating from our hub in London our specialists cover each region and both technical and support functions. Our international team, including Spanish, Portuguese and French speaking consultants have intimate and in-depth knowledge of the regions they cover. In addition, our dedicated resourcing team located in Asia focus entirely on tracking mining talent across the globe.
Contingency Recruitment
Our extensive network allows us the capability of rapid and high quality response on urgent vacancies. We reference all candidates thoroughly and ensure that they are correctly skilled and motivated before submission. We focus on candidates who have proven track records of success in appropriate roles and locations.
Project Recruitment
We have successfully supported major mine construction and pre-production projects, and delivered entire senior management teams on time and on budget and in difficult locations. Having developed a unique technology platform and project management methodology we can support large scale projects anywhere in the world.
Jobs by AER International
There are no postings meeting the criteria you specified
Title
Company
Location
Posted